In this project, we have designed and conceptualized a trade fair stand for our customer HARTAL. It had already been installed at the Caravan Salon 2019 and will be part of the company's showroom in the future. HARTAL specializes in high-quality lightweight components for the mobile leisure industry and is partner of numerous international manufacturers.
The task was to present HARTAL's core competencies as a production company, their current product range, as well as the company's innovative spirit and commitment in a modern and appealing way at the trade fair stand.
Client
HARTAL, Hans Holzhauer GmbH & Co.KG
Services
Interior design, exhibition design, design and conception of a trade fair stand
The targeted combination of natural materials, plants and bright, friendly colors is what makes the design so distinctive. The result is an inviting, friendly atmosphere that attracts trade fair visitors to the stand and encourages conversation.
Context-related space worlds
A conference zone for customer meetings is separated by semi-transparent, printed fabric panels and creates space for concentrated discussions away from the hustle and bustle of the trade fair.
This area is dedicated to camping and the mobile leisure industry and supports the professional setting of the trade fair. Selected mood images, furniture and lighting create a relaxed, informal atmosphere.
A light, passable wooden construction serves as the central part of the stand, where various models of caravan doors are exhibited. The doors allow visitors to walk all the way around the stand. There are pebbles arranged inside the construction which enable the visitor to experience a piece of nature visually and haptically, thus creating a feeling of being outdoors.
.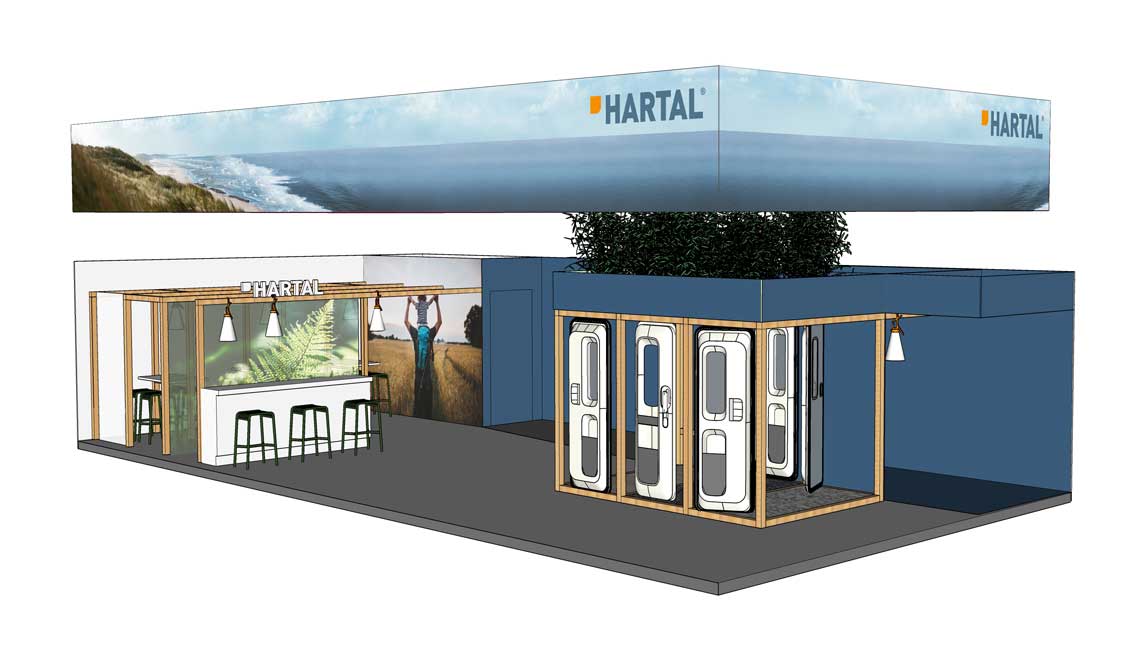 Material wall and innovation tunnel
The blue back wall of the stand serves as a colored contrast to the light wooden constructions. This is where the visitors can find information about the company and individual product samples. Visitors to the trade fair can inform themselves and try out prototypes at the stand while waiting for the staff who are all involved in conversations at the time.
The wall features a kind of tunnel displaying innovative projects and the design competence that HARTAL has already implemented in cooperation with partners from various business sectors.
The stand was constructed on site in cooperation with the company Werbebaugesellschaft mbH.