The Neo Box is a portable hand box designed to safely store and transport personal items as well as those utensils that are essential for the daily office routine. It is both a storage space and a bag as well as a personal companion in the agile office. Apart from being a collection station, the Neo Station is also a presentation desk and workshop caddy. Both the Neo Box and the Neo Station are practical multiple-use solutions for agile work in desk-sharing surroundings.
Client
Fleischer Büromöbelwerk & Co. KG.
The design process was initiated by a detailed analysis of the action sequences and possible usage scenarios for the application of the box in the modern office. All the necessary functions and features have been specified in a close exchange with Fleischer. The integration of all functions, including the design possibilities of the Neo Tex material, resulted in the final concept. The creation of the "Neo Box" was followed by the design of the "Neo Station" as a possibility to "park" the box at meetings. The "Neo Station" was reasonably enhanced to go further than the function for the meeting scenario and draws formally upon the design of the "Open Wall".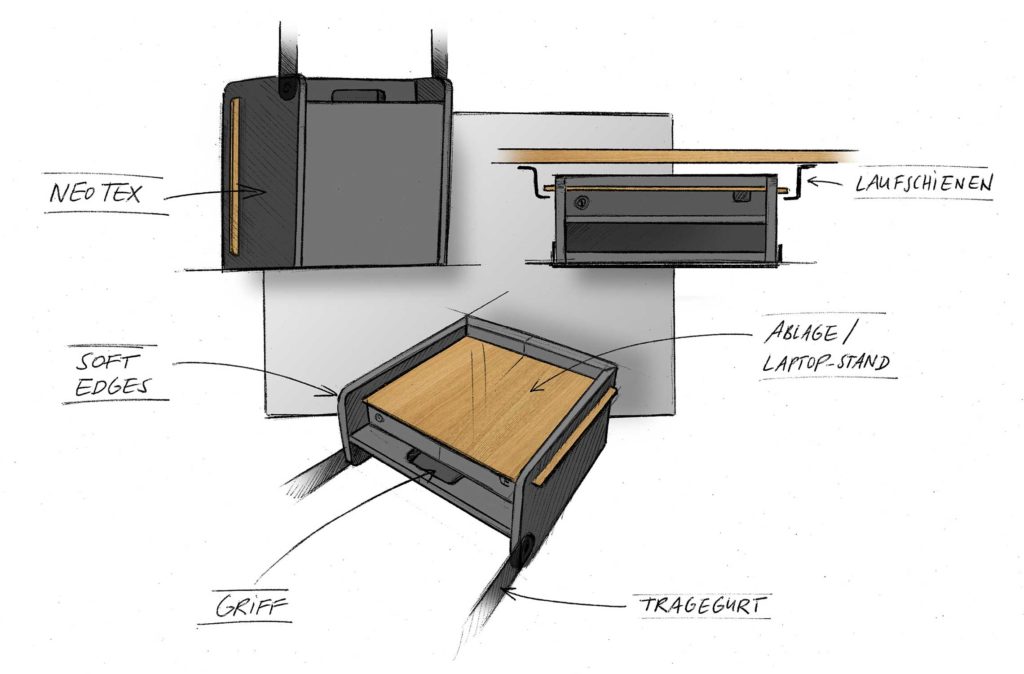 The Neo Box can be placed under the desk surface, mounted on top as a laptop stand or carried comfortably using the shoulder strap that is made of elastic material. The interior of the lockable drawer can be adapted individually and offers space for office materials, which remain in place during transport thanks to the subdivisions of the drawer.
The Neo Station offers space for up to six storage boxes. The shelf above offers additional storage space, e.g. for workshop utensils, glasses or crockery. The surface is made of the ultra-light NeoTex. A non-woven fabric that additionally enhances the pleasant, warm feeling of the components.
Neo Box/ Neo Station Prototyping